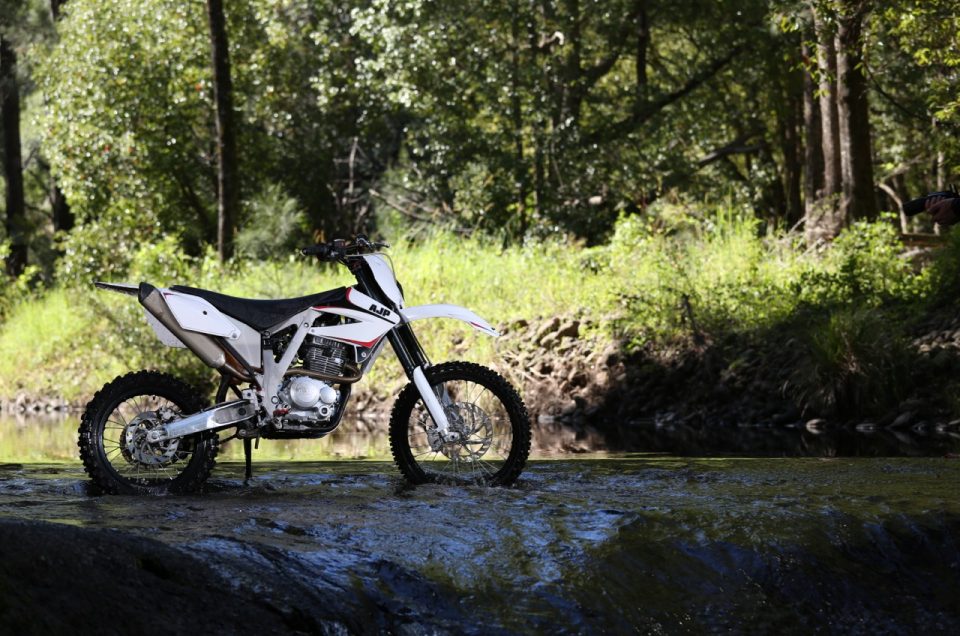 The AJP Motos PR3 ticks many boxes for us here at Dirt Bike Tours Ireland. One of the things we are proud of here at Dirt Bike Tours Ireland is our knowledge of the terrain but also our choice in having the right bikes underneath us to handle it. If you are looking for a new dirt bike this Christmas you can't really go too far wrong with the PR3 MX from AJP Motos. 
The AJP PR3 MX range comes in two capacities and we can provide it drop shipped to your door or can build it for you and come to collect. The two models : 124 and 233, both four-strokes and both machines with an incredibly linear power curve. And with 89kg of centralised mass, the PR3 doesn't necessarily need all the power in the world because it's not moving much weight, it is lightweight but also super strong.
The power is easy to use, so beginners who are a little twitchy with their throttle wrist can feel comfortable swinging off the right grip straight off the bat and that gives new riders plenty of confidence. 
Another standout feature is the suspension. The Marzocchi gear is not something you'd expect to find on a bike a little over £3000 but it's there and is considerably better than its Japanese counterparts you can find on the market and likely to compare but we would recommend AJP PR3 not just because we are the Irish importers but because we have tried and tested them for years. The AJP PR3 has a 38mm fully adjustable fork with 240mm of travel. Heavy over handling may bottom out the fork and shock so be warned, but for everyday riders there won't be that problem, this is a good all round capable motorcycle. 
The action is predictable and plush for trail rides and off road adventures alike as that is where it is geared towards and for what we push our guys through on our trails or trails of your own , it will be just fine. While Marzocchi isn't the best fork money can buy on a full size dirtbike, it is awesome really for something at this price point really. 
The absence of a kickstarter is a concern for most established dirtbike riders. However, when you consider what kind of rider this bike is designed for, the manual leg is redundant. There's nothing worse than having to kickstart a bike for your kid every time they stall it and on the day we tested the PR3, the electric leg was flawless.
When starting out on a dirtbike it's just as important to learn how to care for your bike as it is to learn how to ride it, and air filter maintenance is the first thing everyone should learn how to do. The AJP PR3 makes this easy, thanks to an accessible air filter under the seat. It's a Twin Air, so you know your precious engine internals will be safe from all the nasty stuff that can sneak in.
Oh and the clear tank is really good. For beginners who want to ride all day it's handy to be able to check the fuel level before it's too late. All said and done the AJP PR3 is an amazing Dirt Bike for anyone to pick up under the tree this year. Were always in the mood to talk bikes, so any questions drop me a line and let's talk. Thanks – Paul.