The Standing Position.
Sometimes your Dirt Bike is more about handling that raw power than it is about speed. To get a handle on that power you will have to dominate the bike in what's commonly known as 'The Standing Postition or in racing, The Attack Position"
Correct body position and maintaining that is probably the hardest part of riding a dirt bike. It's more than just standing or sitting. Correct body position incorporates how and where you grip your knees, where your feet go on the foot pegs, your arms, fingers and back posture. On our Tour Bikes or training sessions we use AJP Motos, raw power but lightweight and great handling machines.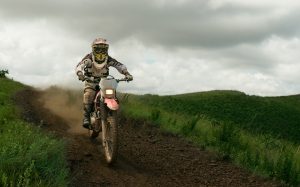 It's not that much of a  stretch to say that most of your time is likely spent on a dirt bike is in the standing position and keeping that realtionship between power and balance under your control. When you do want to step it up a gear and ride full throttle you simply just can't race effectively or tackle the variety of obstacles in off-roading in a sitting position. The best standing position includes the following features:
Don't lean straight-up or back – position your head over the handlebars in a crouching stance. This enables you to…
Use your knees to grip the bike's gas tank for better control
Find the best location on the foot pegs for your size and comfort – usually centered on your feet
Lean forward, keep your arms up and elbows out – away from your body
You might hear the above described as the "attack" position amongst others but as we generally refer to this as the 'standing' position. When we are out on Tours our experienced team are happy to give pro advice to your riding techniques or you can book a training course with us and were happy to get you to the level you want. Enjoy yourselves out there and thanks – Paul.